Five Songs by Laurence Hope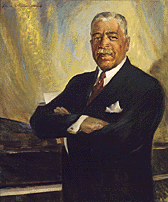 H.T. Burleigh published Five Songs by Laurence Hope in 1915.
Henry Thacker Burleigh (1866-1949), also known as Harry Burleigh, was a prominent African-American composer of the early twentieth century. In 1892 he received a scholarship to the National Conservatory of Music in New York, where he studied under Dvorak, and in return introduced the Czech composer to Black spirituals.
Online:
Image: Burleigh by Laura Wheeler Waring, in the National Portrait Gallery, Washington, D.C.