Noguchi Project Editions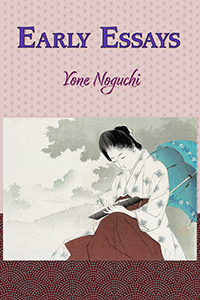 Early Essays
By Yone Noguchi
A new collection of Yone Noguchi's groundbreaking early essays.
Yone Noguchi, the first writer of Japanese ancestry to publish books of English poetry and fiction, was also a ground-breaking essayist who introduced American and British readers to many Japan-related subjects. His earliest essays, published from 1903 to 1906, are collected for the first time in this volume.
List Price: $14.99
5.25" x 8" (13.335 x 20.32 cm)
330 pages
ISBN: 978-1939913067 (paper)
978-1939913074 (ebook)
Publisher: Botchan Books
Publication date: September 7, 2022
About Early Essays
Yone Noguchi, the first writer of Japanese ancestry to publish books of English poetry and fiction, was also a ground-breaking essayist who introduced American and British readers to a variety of Japan-related subjects. In his earliest essays, published from 1903 to 1906, collected in this volume for the first time, Noguchi introduces English-language haiku, modern Japanese fiction and poetry, Japanese women writers, modern Japanese painters and illustrators, and modern drama, including the latest attraction on the Japanese stage: Shakespeare. He explores Japanese humor-writing, journalism, and translations of English books, explores problems of translating Japanese poetry, and considers the movement to Romanize the Japanese language. He writes of American and British writers of his acquantance, interviews prominent Japanese, including politician Hirobumi Ito, geisha-actress Sada Yacco, Vassar graduate and society trend-setter Sutematsu Oyama, and Setsuko Koizumi, widow of the late Lafcadio Hearn, and discusses characteristic Japanese cultural subjects, including geisha, actors' wives, hairstyles and babies. He describes his own life as a Japanese immigrant, traveler, and author, including his friendships with American and British writers, and his return to Japan during the Russo-Japanese War. Five previously unpublished essays, on Japanese emigration, sumo wrestling, and bushido, are included. The volume includes an introduction by Edward Marx, full illustrations, and notes on sources.
Contents
In the World of Achievement
 Hokusai, the Famous Japanese Artist
 Tokyo by Night
 Japan's Greatest Actor is Gone
 How Othello was Made Over for the Japanese Stage
 Admiration From Japan
 How Poor Young Japanese Educate Themselves in America
 Seitei Watanabe
 A Proposal to American Poets
 Edwin Markham
 What English Books are Known in Japan?
 The Evolution of Modern Japanese Literature
 Journalism in Japan
 Popular Songs of Japan
 Modern Japanese Women Writers
 Tokutomi's 'Nami-Ko'
 Japanese Humor and Caricature
 Theatres and Theatre-Going in Japan
 Japanese Women in Literature
 Koyo Ozaki
 Japanese Babies
 Lafcadio Hearn's 'Kwaidan'
 The Evolution of the Japanese Stage
 'To Suffer is Only Natural for the Japanese Poor'
 The Real Geisha
 The Passing of Lafcadio Hearn
 Modern Japanese Illustrators
 Okuma on Japan's Future
 The Fighting Spirit of Japan is Found in the Rural Districts
 A Conversation with Mrs. Lafcadio Hearn
 The Geisha Girl of Japan
 How Japs Observe New Year's
 With the Poet of Light and Joy
 Monuments of Flowers are Built to the Dead
 Marchioness Oyama, Japan's Social Leader
 Shakespeare in Japan
 Japanese Artists Ignore the War
 On the Romanization of the Japanese Script
 A Translation of the Imperial Poems
 The Younger Poets of Present Japan
 Royal Poets of Japan
 Death of Lafcadio Hearn
 Soul of Japanese Woman is in Her Hair
 Modern Japanese Writers and their Reading Public
 Edmund Clarence Stedman
 With Rossetti in London
 Sada Yacco
 A Day with Marquis Ito
 Japan's Modern Novelists
 Actors' Wives in Japan
 A Japanese View of the Books about Japan
 The Japanese Wrestlers
 Japanese in America and Some Other Foreign Countries
 Spirit of Japan
 Two Japanese Artists in New York
About the author
Yone Noguchi (1875-1947) was a key figure in international modernism, promoting international discovery of Japanese culture, the development of Asian-American and Anglo-Japanese literature, and the internationalization of Japan. He was the father of artist Isamu Noguchi and the partner of Leonie Gilmour. Editor Edward Marx is the author of numerous books and articles on the Noguchis. For information on Noguchi Project Editions and Botchan Books, see www.botchanmedia.com.
Preview this title on Google Books
Buy this title on Amazon USA / UK / Japan