Noguchi Project Editions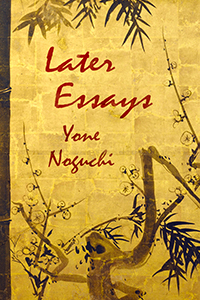 Later Essays
By Yone Noguchi
Yone Noguchi's later essays collected together for the first time.
Yone Noguchi's delightful, groundbreaking essays of the 1920s and 1930s, previously available only in hard-to-obtain periodicals, are collected here for the first time in this Noguchi Project Edition. The 22 essays range across Japanese poetry, No drama, art, autobiography, travel, and international relations. The essays are edited and introduced by Edward Marx.
List Price: $12.50
5.25" x 8" (13.335 x 20.32 cm)
164 pages
ISBN: 978-0615765433
Publisher: Botchan Books
Publication date: February 4, 2013
Available from:
Contents
Introduction
Psychology of Modern Japan
Insect Musicians and Others
My Ideal Home
With Fuji Mountain It Begins and Ends
The Candle-Light
The Sense of Existence
Japanese Art
Japanese Poetry
The Mask Play of Japan
Kinchinjanga
Indian Impressions
Gazing up to the Southern Hill
The Wooden Clogs
The Region beyond the Torii
The One-Hundredth
The Sense of Amazement
Calligraphy and Painting
Debussy in Japan
Floral Beauty
The Bamboo Thicket
All the Arts Are One
The Future of Democracy
About the author
Yone Noguchi (1875-1947) was a key figure in international modernism, promoting international discovery of Japanese culture, the development of Asian-American and Anglo-Japanese literature, and the internationalization of Japan. He was the father of artist Isamu Noguchi and the partner of Leonie Gilmour. Editor Edward Marx is the author of numerous books and articles on the Noguchis. For information on Noguchi Project Editions and Botchan Books, see www.botchanmedia.com.