Noguchi Project Editions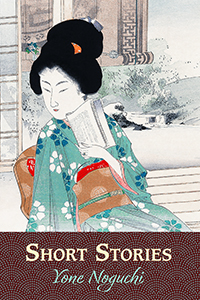 Short Stories
By Yone Noguchi
This major new addition to the collected works of Yone Noguchi brings together sixteen short stories, half of which appear here for the first time, along with an authoritative introduction and extensive notes by Edward Marx.
Yone Noguchi was the first writer of Japanese ancestry to publish books of English poetry and fiction in the United States. In addition to his authorship of two groundbreaking novels, Noguchi also worked to reinvent the Japanese short story in English during the first decade of the twentieth century. His innovative fiction experiments—overlooked at the time by a literary establishment committed to the dominant styles of literary Japonisme—remain a vibrant resource of early Asian American modernist literary experimentation. This edition collects all of Noguchi's known works of short fiction, both published and unpublished.
List Price: $14.99
5.25" x 8" (13.335 x 20.32 cm)
260 pages
ISBN: 978-1939913081 (paper)
Publisher: Botchan Books
Publication date: December 8, 2023
Available from:
Contents
Introduction
Miss Cherry Flower's Diary
A Japanese Girl's One Week in London
The Wedding Bell
The Carnation
The Mountain Nightingale
Climbing Dantai Mountain
The Midnight Dagger
Japanese Fantasies
In the Valley
The Snowy Afternoon
O Kinu's Time of Trial
Mr. Phillips
In Love Success Street
Making a Little Japanese Summer Luncheon
Miss Laughter and Her Book
[The Round Mirror]
Notes
About the author
Yone Noguchi (1875-1947) was a key figure in international modernism, promoting international discovery of Japanese culture, the development of Asian-American and Anglo-Japanese literature, and the internationalization of Japan. He was the father of artist Isamu Noguchi and the partner of Leonie Gilmour. Editor Edward Marx is the author of numerous books and articles on the Noguchis. For information on Noguchi Project Editions and Botchan Books, see www.botchanmedia.com.